Images are important. They serve to educate, inform, persuade and, above all, capture the attention of your audience. That's why how you manage your images is key to ensuring they deliver the message you're intending.
So, how do you manage your images? In a world with an unlimited choice, it can be hard to know where to start. Should you choose an image hosting website or is a photo sharing platform sufficient? In this post, we explain the difference between image hosting and photo sharing and help you to decide which is the best platform for your needs.
What is image hosting?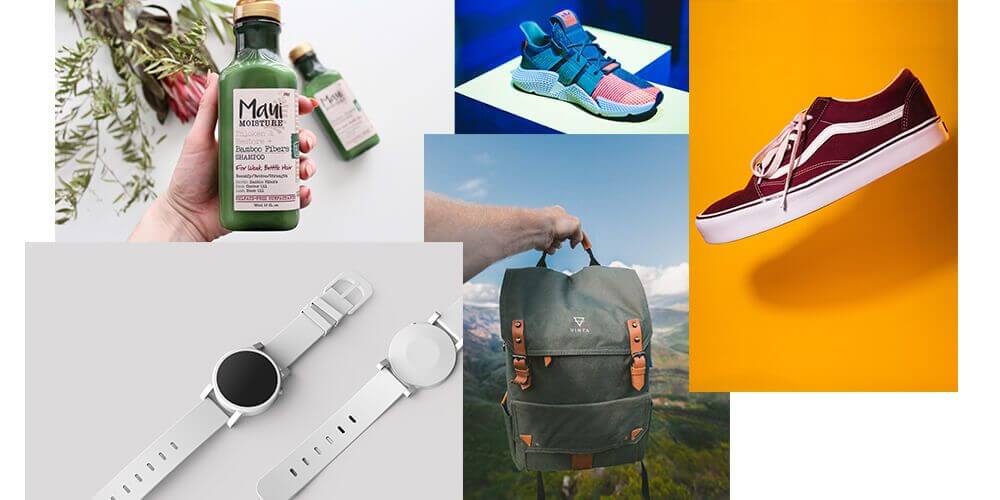 Before delving into the differences between image hosting and photo sharing let's take a look at what image hosting actually is.
Image hosting websites allow you to upload your images onto their servers. Once uploaded, your images are 'hosted' and can be accessed online. Think of it as your personal hard drive but connected directly to the internet.
With image hosting, you can control where you place the images online; you can upload your images, store them in one place, and makes them accessible to your audience through whatever online platform you wish.
Image hosting services are designed to work optimally in delivering images worldwide to your audience. They feature advanced features such as a global content distribution network (CDN), which speed up image loading by for example compressing your images without quality loss. They offers lots of bandwidth for distributing your images online and are not limited by daily limits usually imposed by photo sharing sites.
What is photo sharing?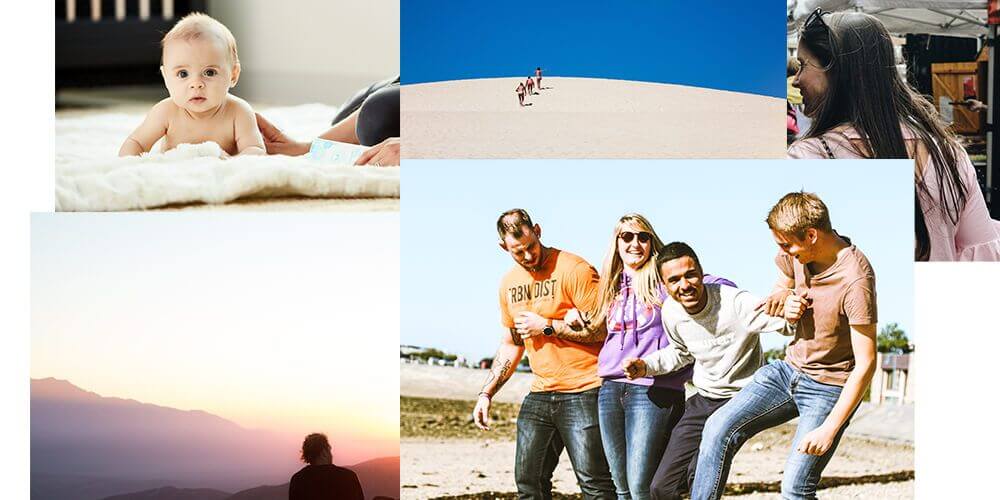 Photo sharing is something which you likely have done already. If you have a social media account such as Instagram and have shared a photo with your followers, this is known as photo sharing.
Photo sharing can also take on other forms such as through sites such as Flickr and Google Photos. You create albums and share them on the same platform or with friends and family. Photo sharing is the 21st century way of having physical handheld photo albums.
Photo sharing also has another purpose, which is to free up storage space on either your camera or smartphone so that you can continue to take pictures. Plus, when you upload your photos via a photo sharing site you can get feedback from friends, family, and followers on your images.
How are image hosting and photo sharing different?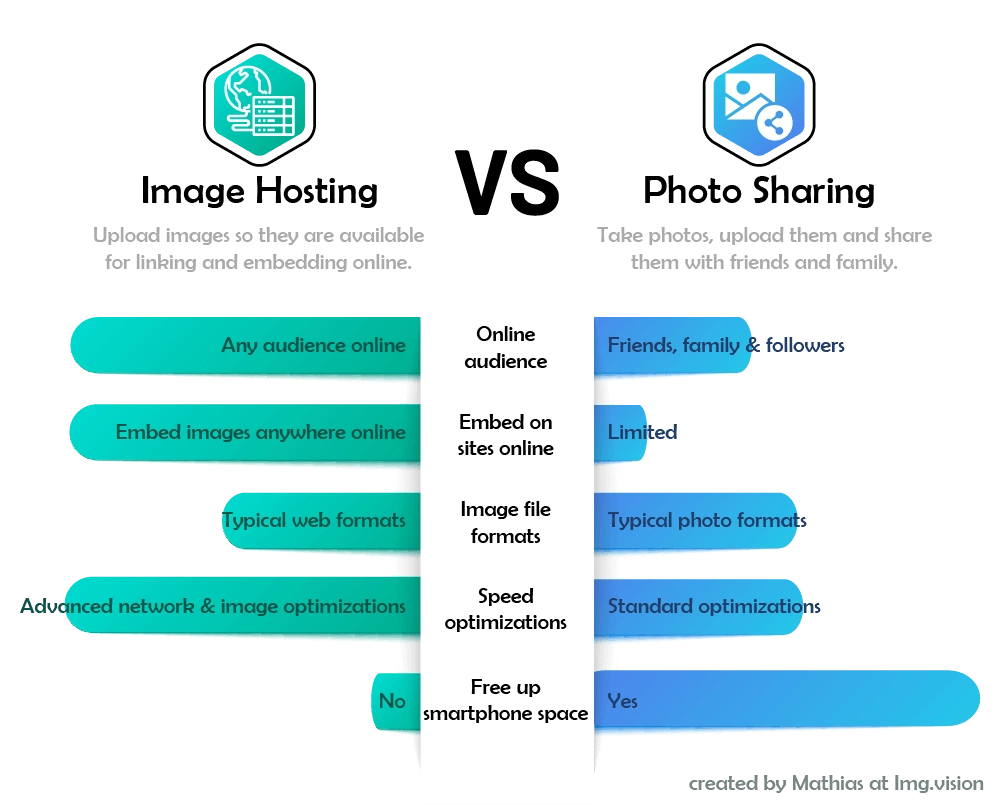 When first learning about image hosting and photo sharing it can be difficult to distinguish between the two. So, what are the key differences between image hosting and photo sharing?
Photo sharing is limited to the platform you uploaded the photos to. Embedding images from one photo sharing site into another, or into your blog or website, is usually impossible. Photo sharing is created to share photos, not illustrations, avatars, banners, etc.
On the other hand, image hosting allows you to get your photos out to a wider audience. Contrary to photo sharing sites, you are allowed and encouraged to directly embed your photos on other sites such as for example your blog. Image hosting sites make it also very easy to determine what the direct link to an image is, usually with easily recognizable link copy buttons. Image hosting sites will propose various code fragments that can be used to embed on a third party website.
Benefits of image hosting over photo sharing
Photo sharing is fine if you're simply sharing photos with friends and family. However, when you run a business, or your self-employed or you want to share your images outside the platform you uploaded it to, then you should consider an image hosting site.
One classic example of the benefits of using image hosting is if you regularly use eBay. eBay sellers can only allowed to upload 24 photos with each listing and there are not photo editing features at all. Image hosting allows sellers to upload, edit, enhance, resize and then embed photos in their eBay listing. This allows eBay sellers to stand out from the rest, and increase conversions.
Another great benefit of an image hosting platform is that you can use it to centrally store and manage all your images. Image hosting sites offer you an online dashboard where you can add, edit, organize, search and find your images when you need them without needing to install any software, accessible through desktop or mobile devices.
What Img.vision can offer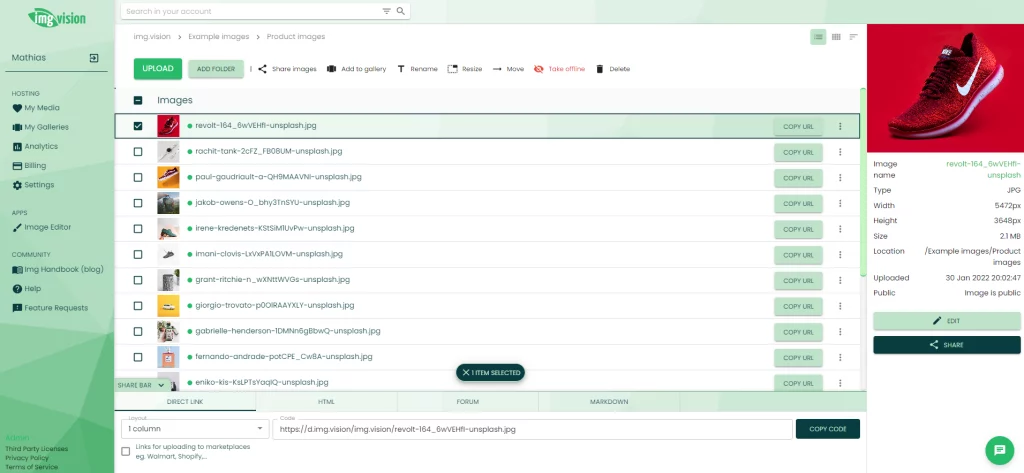 Now you know the difference between image hosting and photo sharing, let's take a look at what Img.vision can offer as an image hosting site.
Img.vision offers media management that is reliable and uncomplicated. With many eBay sellers using Img.vision, but also small businesses and designers, we've honed the Img.vision dashboard to be easy to use and make it cover all cases that these customers need.
Some of the features of Img.vision are:
Drag & drop uploading
Uploading from OneDrive, Google Drive, Dropbox
Support for PNG, GIF, JPG
Fast worldwide image delivery network
With Img.vision you can also try before you buy. We offer a 15 day free trial so you can see how good our service is for yourself!