Effortless image uploads and image links. So you can master your market.
We offer static image url hosting that is compatible with Excel formulas for the creation of marketplace flat files. Our service is perfect for small to medium Amazon sellers, eBay sellers, Walmart sellers, Shopify sellers, Bonanza sellers and more…
Our image hosting can also be used for web shops, websites, online communities, anywhere online.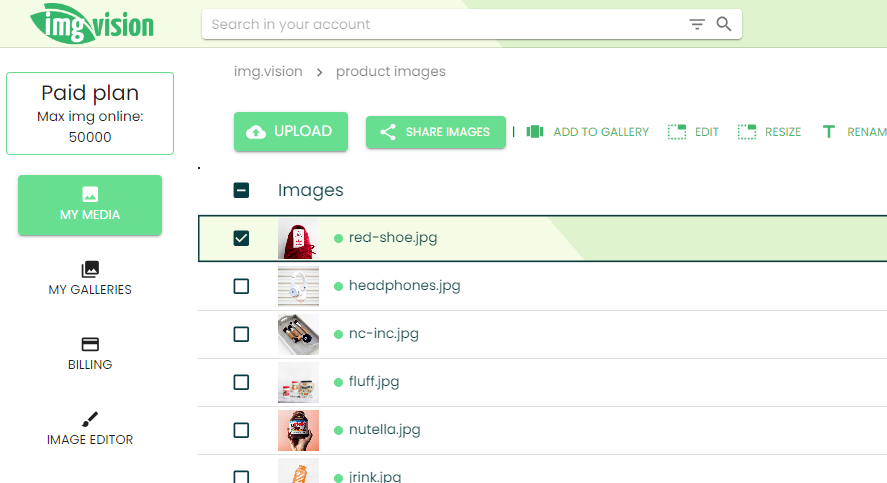 Online sellers
Typical Img.vision customer

20k images
New images uploaded per month

10 terabyte
Images shared per month

4.7 stars
Rating on Capterra
We help hundreds of growing businesses share images and videos online.
Why Img.vision?

First impressions matter
High-quality images, that load fast, and load reliably, ensure that potential customers see your products or services in the best light.

Affordable
No setup costs, no price hike after initial sub period. High-res images can strain server resources and increase costs, but at Img.vision it's a fixed recurring price.

Do it yourself
It's easy to upload images, copy the links and embed them. You don't need an all-in software tool which has tens of bells and whistles.
Why Img.vision as eCommerce seller?

Say goodbye to hefty fees charged by marketplace integrators
Integrators like ChannelAdvisor start at $750 setup fee and charge you a commission rate based on your sales. We at Img.vision only charge a fixed recurring subscription for the platform with no setup fee.

No technical headaches with a user-friendly platform & approach
Our platform is a simple 3-step process: 1. You upload your images. 2. You grab the link code. 3. You add the code to your listings.
Integrates with retail giants like Walmart, eBay, Google Merchant and Shopify
All retails giants allow you to integrate and use your own hosted images. We have customers using Walmart, eBay, Shopify and Google Merchant.. it all works

Set yourself apart from the competition with flawless image hosting
Establish a strong brand presence with hi-res images that load fast and reliably. Showcase your products from every angle, leaving no doubts or hesitations.

Features
Retain folders on upload (coming soon)
Create folders and subfolders on your device, drag & drop them in your dashboard and the folders and subfolders will be automatically created. (Coming soon)
Static image urls for Excel formula compatibility
We don't randomize image links after upload (though that can be enabled), so that you can easily generate the image links yourself in Excel or in Sheets
Bulk hosting for flat files
We support thousands of images in our dashboard, so you can host thousands of images for your marketplace flat files
We back your visuals. You back your business.
Start a 14 day trial of Img.vision, no credit card required.