As an online merchant you probably know all the big marketplaces online to sell your goods such as eBay and Amazon. However, there are also some emerging marketplaces that serve niche audiences. Your goods might fall in these niche categories which means you have an additional way to sell online.
The emerging online marketplaces of 2021 are:
Read on to see what the pros and cons are, and their fee structure.
Bonanza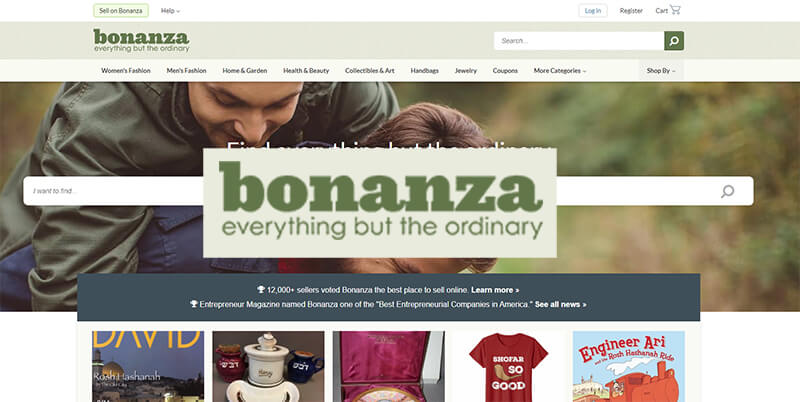 Bonanza was founded in 2008 and was named one of the "Best Entrepreneurial Companies in America" by Entrepreneur Magazine. Bonanza's mission is to support sellers to create a sustainable online business.
What is Bonanza?
Bonanza's tagline is 'everything but the ordinary', setting the tone for quirky, handmade products. Yet, a quick brows on their website will show you that they have a wide product range with things like electronics and video games among its 22 million products. Other things you can sell are:
Women's fashion
Collectibles
Garden décor
Pet supplies
Much like eBay, buyers can buy a product for a set price or negotiate an offer.
Where is Bonanza Active?
Bonanza isn't a big fish, but the website still attracts about 5 million visitors a month. It claims to sell worldwide, but most of Bonanza's traffic comes from:
The US, where Bonanza was founded and where 75% of its traffic comes from.
The UK and Canada, where plenty of Bonanza sellers are based.
It seems like Bonanza is heading in the right direction, but still has a long way to go if it wants to compete with the big guys.
Bonanza's Pros
Using a smaller, more quirky marketplace gives you a better chance of standing out. What are the other perks Bonanza users are raving about?
Easy
Bonanza allows you to easily import your existing listing from eBay, Amazon and Etsy. It takes just a few clicks to copy your entire inventory. This means you can get started quickly and your listings will be consistent over all your channels. Bonanza even offers an eBay feedback importer that looks at your eBay account and gives you a review score based on your eBay reviews.
Ads and Traffic
For a fee, the details of which we'll cover later, Bonanza gives you the chance to be featured in Google Shopping adverts. This can increase your exposure dramatically.
Furthermore, in exchange for financial support, Bonanza will give your listings extra exposure on its platform, its affiliate partners, eBay customers and Bing! users. So, although it's a smaller platform with less users, it can help you to reach out to customers who aren't on Bonanza themselves.
Customer Service
Bonanza Sellers are always boasting about Bonanza's communication and customer service. This marketplace has a built-in chat (Booth Chatting) where buyers and sellers can communicate with each other when they're both online. Bonanza also supports sellers by offering advice, best practices and community ideas.
Bonanza's Cons
Low Traffic
When your audience is smaller, so will your sales. Some sellers find it hard to get traction for their booths unless they bring it in themselves or use premium advertising. For a lot of sellers, Bonanza serves as an additional marketplace. Considering it synchronises with your eBay or Amazon inventory, it's a good way of spreading your store across a few platforms to increase sales.
Proactive Marketing
Don't rely on Bonanza as your only sales platform and don't rely on customers to find you there without any marketing effort. Be proactive, use social media to drive traffic to your listings. Use the features Bonanza offers sellers, like offering: freebies (giving away unspecified items with each sale), coupons or combined item discounts. Build up a relationship with your clients through the chat function and think about the marketing boost they can give you, even if this drives up your fees.
Bonanza's Fees
You won't have to pay to list your products on Bonanza, although they do charge value fees on sales and you need to consider the money you'll spend on advertising. The more commission you pay, the more sales channels your products will be listed on. The more competitive your market, the more exposure you'll need, meaning: more fees for you to pay.
Users can also sign up to different subscription models, similar to marketplaces like Etsy. Paying from $25 to $170 per month will open you up to a range of extras.
This can all seem quite complicated, but it's important to know that after doing the calculations, Bonanza is typically cheaper than Amazon or eBay.
Newegg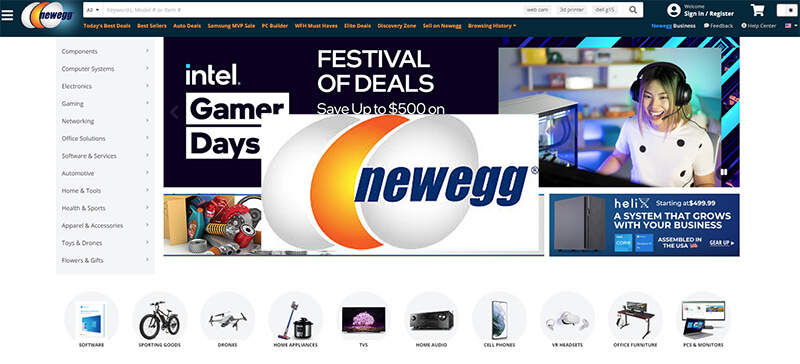 Newegg is an online retailer for most things concerning computers and consumer electronics. It the arts & crafts world isn't for you, maybe this is?
What is Newegg?
Essentially, Newegg is a computer and electronics supplies store. It's a marketplace for professionals where customers can buy component parts and download software. It is however, continuously trying to expand its range. You'll now find products like:
Home improvement tools
Kitchen appliances
Sportswear
Apparel
Where is Newegg Active?
Newegg is headquartered in California and has distribution facilities throughout the United States and Canada. Yet, that's not where it ends. Selling on Newegg will give your business exposure in up to 20 countries. That global reach could help you diversify your range.
Newegg is available as a marketplace in:
Canada, where expansion has helped Newegg generate $2 billion in annual sales.
Australia and New Zealand, where it launched in 2015.
China, which has huge buying and selling markets for tech accessories.
Newegg's Pros
This all sounds lovely, doesn't it? Newegg prides itself for keeping an eye on their competitors and matching their service and features.
Fulfillment Services
Remember Fulfilment by Amazon? If you were a fan, then you'll appreciate the fulfilment service Newegg offers too. This features enables you to leave logistics in the hands of the marketplace, meaning they handle your packaging and shipping.
Support for a small business.
Much like other marketplaces, you'll find helpful guides to boost your sales and support your efforts. Dedicated to finding the newest tech out there, Newegg actively looks for start-ups they can support with sales and shipping services or marketing strategies. Here's a marketplace that hasn't lost its core (tech) value.
Range diversity.
That being said, Newegg has proven to be more than just a technology base. While it does appeal to tech experts, they've been broadening their offerings since 2010 and with success. Their top sales categories are in fact office supplies, consumer electronics and health & beauty products.
Newegg's Cons
High Standards
Newegg gives sellers the benefit of being able to sell to niche markets. Targeting the right audience is great, but it can also be a burden. Newegg sellers must pass a screening test and commit to providing excellent customer service.
Conscious customers
The typical Newegg shopper is well-informed about their desired product. They know what they are looking for and this is often a specific brand. If your business model is to sell unknown or unbranded products, pick another marketplace.
Newegg's Fees
With Newegg you'll be paying sales commission per product. Their rates are among the lowest in the industry, allowing you to set a competitive price.
There are also different subscription levels starting from $0 up to $100 per month, which will give you different opportunities.
Zazzle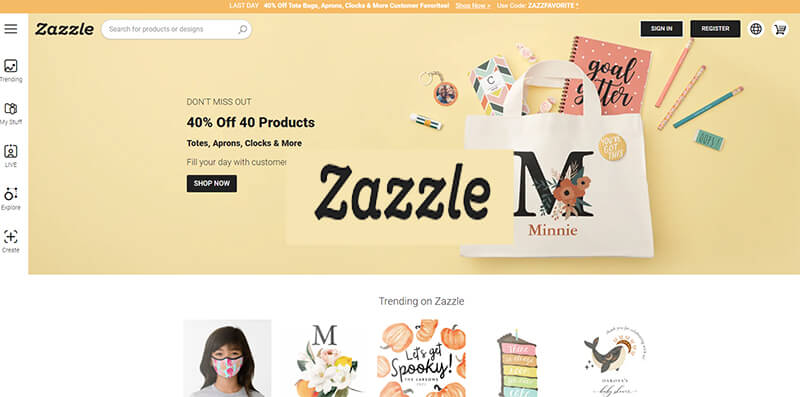 Zazzle, a name to make you dazzle. This is a family business that have been building the company carefully, quietly, and successfully.
What is Zazzle?
Zazzle isn't interested in becoming the next Amazon. Instead, they focus on offering products that can't be found anywhere else. This allows them to avoid pricing pressure.
Zazzle isn't a marketplace like eBay or Etsy where people just sell their products. Zazzle comes with technology to let customers personalize products. Items only get manufactured after they're ordered. This means Zazzle has next to no inventory, yet still manages to ship most packages within 24 hours. An efficient formula that includes products like:
Stationery
Phone cases
Gifts
Art prints
Where is Zazzle Active?
Zazzle has over 30 million visitors to its website every month, so you're sure to reach some international customers on this platform.
The US, where most of Zazzle's users are based.
Canada and the UK, like other craft-based marketplaces.
Europe, where Zazzle is growing as a brand.
Zazzle's Pros
Zazzle is a place for makers who are looking for a way to boost their skills and audience.
Easy Setup
Zazzle is simple to use, for both sellers and buyers. The platform is easy to navigate, and its features are self-explanatory. All you need to do to get started is sign up for an account as a Designer, Maker, or an Affiliate. Different tools are offered, depending on your choice of account.
Options
The three account options, opens up the platform to quite a wide range of sellers. As an Affiliate you can sell anything and receive a commission on your sales. As a Maker you will be responsible for manufacturing and shipping yourself. A Designer account allows you to upload your designs and choose the products you want to personalize. Zazzle will take care of manufacturing, printing, and shipping. You can choose from a wide range of products. Just about anything is customizable; from clothing to phone cases to ping pong rackets: you name it, they've got it. Finally, there are no limits to the amount of images and designs you can upload. Naturally, you must have the rights to the designs and images.
Zazzle's Cons
Zazzle doesn't come without its downsides, though.
Be Informed
With a product range this large, you'll need to be well-informed on what works and what doesn't. Perhaps Zazzle isn't the greatest place to start if you're completely new to the business. Furthermore, leaving the manufacturing in Zazzle's hands, means you must trust them. Some sellers and buyers complain that the quality of the printed products is questionable. Make sure you know what you're selling, considering your name will be linked to it.
Lower profits
You can set your own commission rate on Zazzle, but keep in mind that the competition is fierce. It might be a good idea to keep your business alive on another platform too.
Zazzle's Fees
As a designer, you don't have to pay to upload your designs. You can set a royalty rate and once you make a sale, you will get that percentage. If you're signed up as a Maker, Zazzle demands a 30% commission fee from your sales. This is like other art marketplaces both online and offline.
There are also shipping fees that makers must cover, so make sure you're clear on what this marketplace expects of you before you start selling.