Imgur alternative that embraces the internet
Get the 20 plan for free and share your images and gifs online. We accept commercial images, nudity and explicit images unlike Imgur.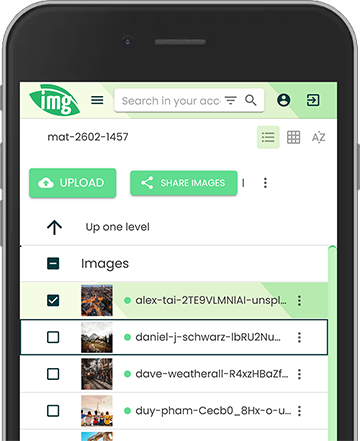 Imgur vs Img.vision
Img.vision was built for hotlinking and works for commercial images, nudity and sexually explicit content.
It's the better image sharing alternative to Imgur.
Pricing
Our pricing is simple, get a free plan where you attribute us and can have 20 images up at any given time, or get a paid plan where you can keep 1000 image up online, with no attribution, plus we'll throw in a resize tool.
What does Imgur do?
Imgur.com is a hugely successful online image sharing platform with a strong social network. The service was founded in 2009 by Alan Schaaf. Imgur grew rapidly and with the launch of its meme generator in 2013, it's consistently ranked in the top 100 of most visited websites in the US.
What is image hosting?
In order to understand Imgur's story, you need to know what image hosting is.
An image hosting service allows you to upload images to their website. The image host will store your images onto its server. Once uploaded, your images are 'hosted' and they can be accessed online. Think of it as your personal hard drive but connected directly to the internet. That direct link to the internet is the unique aspect of image hosting.
Your images cannot be lost, they're in a safe place. What's more, they're easy to access and you can link to your images on external websites. This makes your websites quicker and you don't need to stack up on external hard drives in order to save your pictures. Handy!
Imgur and image hosting
Imgur was founded as an image hosting service. The idea for the website grew out of frustration. Alan Schaaf announced the launch of his platform on Reddit, writing: "My Gift to Reddit: I created an image hosting service that doesn't suck. What do you think?" Schaaf's work was an immediate success. It quickly had more than 1000 visits per day, reaching a million page views in the following months.
So, Imgur is an image hosting platform. This means it allows users to upload images and link to those images directly. It's not really a photography site, though. It hosts a mixture of photos, Photoshop creations, drawings, screenshots and memes. Imgur has hosted a lot of viral images, particularly those posted on Reddit.
Imgur's history
Some of the greatest start-ups in the online world started as a side project at university. Imgur is no different. Alan Schaaf created it while he was studying computer science at Ohio university. At first, he relied on donations to fund the web hosting costs. A few months after the launch, display ads were introduced and by 2013 sponsored images and self-service ads generated Imgur's income.
In 2010 Imgur introduced accounts, which allowed users to create custom image galleries and manage their own album and album layouts. From then on, users with an account could edit, delete, embed their images and albums and they had the ability to comment on viral images and submit to the public gallery.
In 2013, Imgur added a "Meme Generator", a service that lets users create their own memes. A very successful move.
Imgur versus Img.vision
Imgur might be a big player in the field of image hosting, but it is not the only one. It's good to take a look at the competition, because Imgur might not be the service for you.
Imgur does not support what made it great: nudity. On May 15, 2023 they will purge their site of all explicit images and stop accepting new such images.

Imgur is not designed for hosting all images. It is prohibited to use Imgur as an image host for commercial purposes. In other words, the images you upload cannot be used to sell things. You cannot upload logos, avatars, icons or banners. Using Imgur to host images for a site that makes money, will result in your images being deleted or blocked.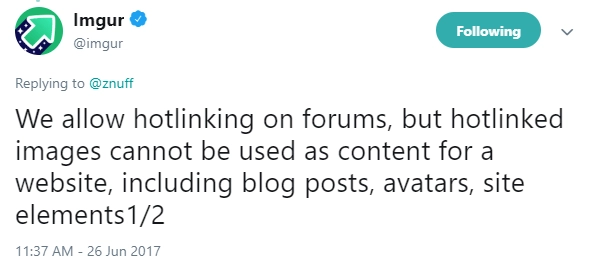 Clearly, if you are looking for a way to store images for your online business, you need to stay away from Imgur. Whereas Imgur is focussed on being a community where people can share, like and comment on each other's images, other image hosts, like img.vision focus on helping out online businesses.


Why choose Img.vision?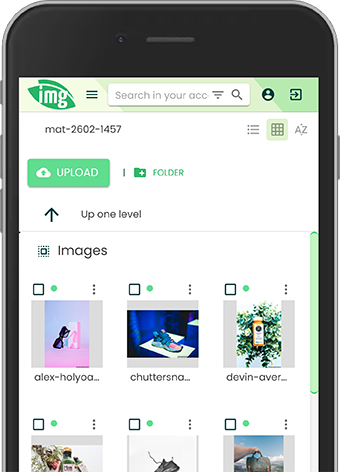 Img.vision allows you to do what Imgur does, but without restrictions on nudity and commercial use. Our service is business-oriented and as a younger company, we are open to hearing your feedback and finding ways to tweak our service to your needs.
The img.vision platform sports drag & drop uploading, making it easy and intuitive to use. It comes with features other services, like Imgur, don't offer.
An interesting feature is the real-time conversion of images to a webp image format. A CDN detects whether your visitor supports the smaller Webp image format and automatically converts your images to a 34% smaller size file. The compressed images will then load quicker, without any quality loss.
Furthermore, it's possible to resize your images according to your own custom dimensions or using one of the many size presets like eBay, twitter, Facebook, etc. The HTML embed code is fully responsive, thereby making sure your images will always be loaded as quickly as possible and with the biggest image quality your visitor can handle on their phone, tablet or computer.
Finally, you can upload hundreds of images in one go without crashing your computer. A feature that will save you a lot of valuable time!
To sum up, Imgur is not the only image host worth working with. Especially if you're looking for an image host for your (online) business. Make sure you check out img.vision's different pricing plans and find out what works best for you!