If you're interested in becoming an eBay seller or get involved in e-commerce generally, then you are likely to have read about something called image hosting. But what is image hosting, why do you need it, and how do you choose the right one for your business needs?
Well, in this blog we take you through everything you need to know about image hosting to help you make an informed choice and soon have your e-commerce business reaching new heights. We will also take you through some top tips for getting started with using Img.vision if you want to setup or grow your eBay or e-commerce business.
Step 1: Understand it. What is image hosting?
Simply put, image hosting is like an online hard-drive where you can store pictures, videos, and all things pictorial. Your images will be stored on the server of the image hosting site you choose and can be shown online on your eBay listings or whichever e-commerce platform you are using. Good image hosting sites will use a Content Delivery Network (CDN) which will ensure faster load times for your images globally.
CDN's use a system of caching servers which store your images around the globe on a number of servers so that end users are always connected with a server nearer to them, speeding up load times and improving their experience of engaging with your products. Image hosting is also a good way to mitigate the risk of successful DDoS attacks and blocking malicious bots from using content scraping tools or even trying to take over your account. You get direct links and embeddable code to your images and videos so that the appearance is indistinguishable for a normal user.
Step 2: Understand why you need image hosting if you want to be an eBay seller?
There are a number of reasons why you are going to want to set up image hosting if you want to become a successful eBay seller. Number one is that doing so is actually going to save you a whole load of money that you would otherwise be spending on eBay fees if you set up your own hosting as their fees are high. Another good reason is that you get a lot more control over your images with image hosting.
Another important reason to choose an image hosting site is because eBay will threaten, and go through with, removing content that is not secure from their listings which is not going to do your sales any good. Whilst photo sharing sites like photobucket.com can be used as for image hosting, you will find that you quickly come up against their bandwidth limit if you use their free account and indeed even on paid-for packages if you reach your limit your photos will be replaced with a 'bandwidth exceeded' thumbnail. This doesn't look great and can cost you sales.
Step 3: Choose an image hosting site
There are hundreds or perhaps even thousands of companies offering image hosting. However, there are some things you need to look out for if you want a good one. When it comes to choosing an image hosting site, you want one that uses a top-quality CDN, offers useful tools to edit your images online, has excellent security standards so your images will be protected and will meet eBay's requirements, and one that comes with a link code generator. Img.vision meets all of these requirements and comes with a range of other benefits to boot, such as a free 15-day trial to get you started and give you a chance to play around with its features.
Step 4: Register your account
When setting up an account with Img.vision you get 15 days to try it for free and although you need to signup to use its features, you don't need to enter your credit card so don't need to worry about canceling anything, you'll have to actively signup when your trial ends. To see what it can do you can head to the registration page: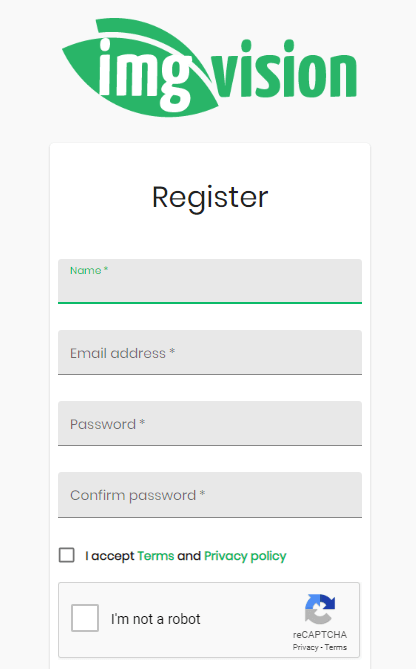 Here you are required to enter something called a 'property name', which is simply a unique address for your images to be stored. It can be connected with your e-commerce name or simply be your username if you prefer. You can then register with just your name, email and a password, and you're in!
Step 5: Create your folder structure
Once you have created your account, you're ready to get your folder structure sorted. You can make a folder easily with the quick folder creation button:

Step 6: Upload your images
You can upload photos directly to your property page or into an appropriate folder if you prefer and sort them alphabetically, or by age or file size.  Your files will automatically assume the file name they have on upload so you can save time by making sure they are well titled before you upload them. You can upload photos by dragging and dropping them into the Img.vision property page directly or by clicking on the following picture image and browsing to the appropriate folder: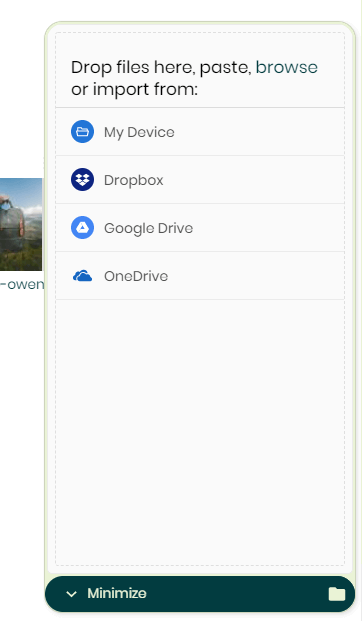 Once your images are uploaded you have a range of options with regards to the management of these files:
1. Overwriting images
Within a single 'property' on Img.vision, you need to make sure all images are uniquely titled. Fortunately, when using the uploader you will get a warning message if you are trying to do this without realizing as otherwise you will overwrite the file by confirming the upload of a file of the same name. The good news when you are intending on overwriting an image is that link access to the image does not change, making it easier to alter your product images over time without causing any issues. The CDN cache also gets cleared instantly, although browsers may store the old image.
2. Moving images
You can move an image from one folder to another by selecting it on the left-hand checkbox and selecting the move button from the selection bar that appears. You can add it to a folder by typing in the folder name or create a new one. If you upload an image into a new folder it will still ask you if you want to overwrite the image (if it has the same name as an image on your property), so you can manage your photos in this way too. If you move images and they are embedded on your listings, you will need to regenerate the code or links. Folders cannot be moved on Img.vision.
3. Bulk resize images
Images can also be resized in batches on Img.vision making it easy to perform uniform actions across a range of images. When using the bulk-resize tool, a copy of the original is also always retained so you don't have to worry about ending up with a load of thumbnails and no original size images.
Step 6: Edit your images
Once your images are uploaded you have a range of options for editing them. It is easy to play around with changes as you can toggle edits on and off. Quick buttons make it easy to edit, crop, and flip your image and you can easily write, draw, and add predefined shapes to your pictures. There are also a range of options to adjust the photo itself with brightness, noise, pixelate, and color filter options, to name just a few of the editing capabilities that Img.vision has built-in to its photo editing suite. You can also add a watermark at the click of a button.
Step 7: Decide which code you need for your eBay listing
There are 4 codes you can generate for your images if using img.vision. These are:
1. Direct link
This link takes users directly through to the image in a single browser tab. It can be pasted into the address bar, or can be placed where desired in item descriptions on eBay or other e-commerce sites. This is easily generated (instructions outlined below) in Img.vision.
2. HTML
This is used to embed full-sized images onto a webpage. As eBay has an HTML tab, this option makes it easy to get all the code you need for your images to be perfectly displayed. This option displays the image on the page and does not require users to click through the link to see the image. 640x480px is a good size for images that are going to be displayed on computer screens and mobile phones.
3. Forum code
Sometimes known as BBCODE, forum code is designed for online forums and message boards. Again, the full-sized image will appear on the forum directly.
4. Markdown code
This is for people who have a developer's mind.
Step 8: Set up an eBay image gallery
Once you have your images uploaded you can easily create an eBay image gallery. All you need to do is select the images you want in it by checking the box alongside the file name. This will cause a number of options to appear onscreen:

Click the Add to gallery button and follow the wizard.

This can simply be copied and pasted into the HTML tab of your eBay item description page. However, be careful, if you move, remove, or rename your images, you will need to generate new code.
Top Tip: If you have already written your description on eBay, there will  be lots of HTML in the tab already. You can paste the generated code underneath this if you want your gallery to appear underneath the item description.  Alternatively, you can search for the sentence where you want to insert the  gallery and paste the code there. Just make sure not to change any letters or  words within this <> type of brackets!
Step 9 (Optional): Embed or link images to your eBay listing
You are also able to set up direct links to your image gallery from your eBay listings and you can also embed full-sized images in your eBay item description.
1. Adding a link to your eBay item listing:
Upload your image on Img.vision. A link code button will appear on the right: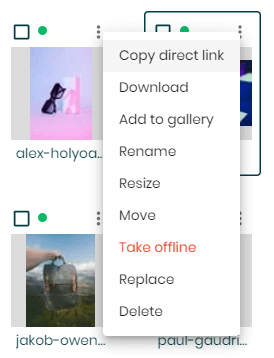 This link can be copied and pasted into the standard eBay item description text area or directly into the HTML section if you prefer. If you upload more than one image at a time, you can also generate a multi-link code using the 'multi-link code' button.
2. Embed full-sized images
Upload your image on Img.vision, and drag it from the preview sidebar into the eBay item description.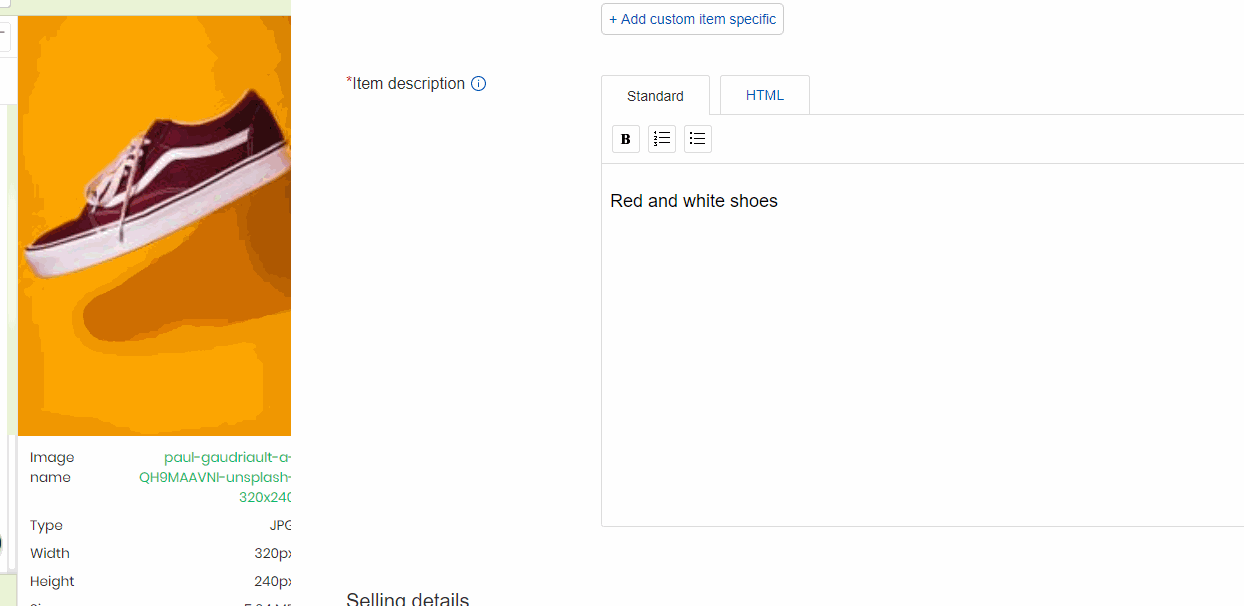 Conclusion
Setting up as an eBay seller is a great way to make a bit of extra cash. However, if you want to make some serious cash, then you're definitely going to want to take the time to get to grips with the ins and outs of image hosting. Choosing your own host can save you a lot of money compared with using eBay, whilst also ensuring you keep control of your images, are more easily able to edit them, and still stay within the safety regulations required by eBay.
Fortunately, image hosting on sites like Img.vision actually improves end-user's experiences because due to their high-quality CDN that takes your images closer to end-users no matter where they are in the world. This blog gives you a step-by-step guide on understanding image hosting and getting started on Img.vision to take your e-commerce business to the next level.