The online world is big and as a seller, it can be challenging to find your way around. Which platforms are popular? Which marketplace suits your business? Where does your target audience go shopping online?
We've made a list of 8 different marketplaces explaining what they are, where they operate, the positives, the negatives, and their fees.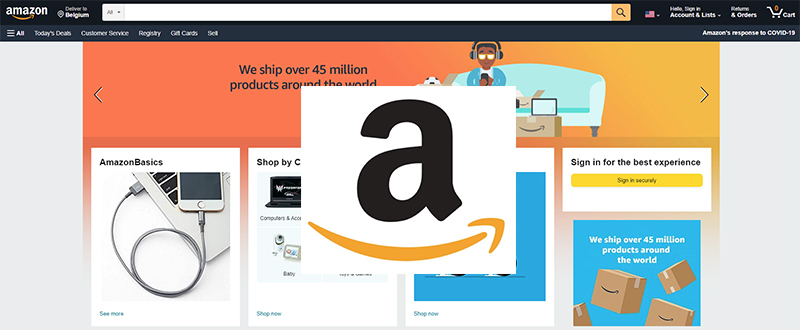 1. Amazon
First up: Amazon. The biggest online marketplace in the world. If you need a (re)introduction. Here it is!
What is Amazon?
Once upon a time, Amazon was a small online book seller. Oh, how times have changed! Nowadays it is a multi-category marketplace that sells just about anything you can think of. Amazon's top categories are:
Toys and games
Electronics
Books
Apparel and jewelry
Where is Amazon Active?
Amazon hosts marketplaces for retailers all over the world, making it a truly global brand.
In the US alone, Amazon has 95 million users who are Prime subscribers.
Germany was the second-largest market for Amazon last year.
The UK, whose Amazon marketplace has a huge share of the eCommerce industry.
Amazon's Pros
Amazon is an experienced and well-established platform. It's easy for small businesses to join and sell.
Global
Although Amazon is a good place for a small business to sell, it's truly a global phenomenon. If you're looking to expand, Amazon just might be online selling route for you.
Logistics
Amazon offers something called "Fulfillment by Amazon" (FBA). This means that you can send (a part) of your stock to Amazon and from there one, they will take care of everything for you. They'll store your products, package, and ship them. That's obviously a huge time-saver for you!
Low marketing costs
Amazon already has millions of customers on their website every day. Their website functions as a search engine, so by joining Amazon, shoppers looking for your products can easily find you. This brings your business one step closer to a lot of new customers, without any significant marketing efforts. Beware, however! One step closer isn't necessarily far. A lot depends on how big the market is that you are selling in. It's not easy to stand out on Amazon, it will be your job to perfect your listings, so your Amazon presence really pays off.
Amazon's Cons
Every marketplace has its downsides and Amazon is no exception.
Competition
Amazon's wide reach is its biggest advantage, but also disadvantage. Competition is fierce and as a seller, you need a long-term strategy to tackle this. First, put maximal effort into your listings. Don't leave shoppers wondering or doubting about anything. Be as informative as possible. Secondly, offer the best customer service. This includes answering customers' questions, keeping your availability up to date and fulfilling orders on time. Finally, focus and invest in getting good feedback from your buyers.
High demands
The strong competition will force you to stay on top of your game, but so will Amazon itself.
Amazon will want to receive updated product data every day. They require all products to have an ASIN-number and all uploads must be done via the Amazon-API. This is no job for a small business owner to do on their own.
Either you add your product data to an inventory file and upload it, an option that is only feasible if you don't have a lot of products to add, or you rely on a third-party data feed tool to deal with the technicalities.
Amazon's fees
Amazon has two selling plans:
Professional – $39.99/mo. with no per item fee
Individual – no subscription fee but $0.99 fee per item sold
The individual selling plan will suit you if you are planning on selling less than 40 items a month. In any other case, the Professional plan will work best for you.
Whatever your selling plan, sellers need to pay a referral fee for every sold item. This fee varies per product category. It can range from 8% to 96%. For a full list of the fees, consult the Amazon Seller Central website.
Moreover, Fulfillment by Amazon offers a lot of perks, but it comes with a price. You will have to pay fulfillment fees per item and pay for storage. It's up to you to decide whether these fees are worth it.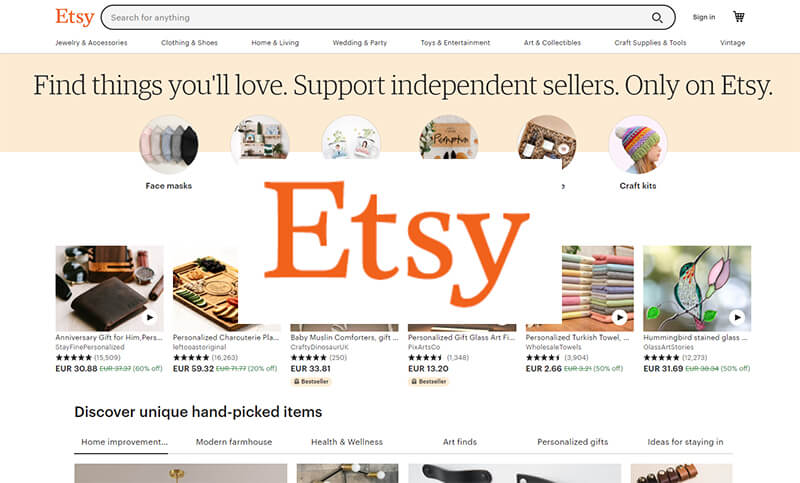 2. Etsy
Etsy has a very different business model to Amazon, but nevertheless, is very successful. As of 2020, close to 81.9 million buyers had purchased goods through Etsy.
What is Etsy?
Etsy is the place to be if you're selling unique and vintage items. Etsy customers are specifically looking for something handmade and special.
This is one of the best online marketplaces for sellers with artistic hobbies or talents. Some of the popular product categories are:
Party décor
Craft supplies
Jewelry and hair accessories
Wall art
Where is Etsy Active?
Like Amazon, you can find Etsy almost anywhere in the world.
The US accounts for around 65% of Etsy's overall sales.
In the UK Etsy is a very popular platform for small businesses and shoppers.
Yet, Etsy is truly a global marketplace allowing you to send your crafts off to any place in the world.
Etsy's Pros
Much like Amazon, setting up an Etsy store is a simple task.
Quick and Easy
It is very easy to start selling on Etsy. You don't need to be an amazing with technology to start up because the interface is very straightforward. It is easy to add or edit listings. You can even customize your storefront. It's very user-friendly for both sellers and buyers, so you have your hands free to get crafty and focus on your products.
Community Spirit
What makes Etsy stand out as an online marketplace is the community spirit. Active Etsy users are guaranteed to be interested in arts and crafts. If this is in line with what you are selling, you'll be sure to reach to right audience on Etsy.
Learning Ground
Etsy offers its sellers a lot of tips on how to sell and it's known to have a community spirit among its sellers too, with makes advising each other. Furthermore, Etsy can serve as your test ground for grander plans. You can start to earn a little money, build your brand, and get to know your customers and their needs. There's a lot to learn when starting a handmade business and Etsy could be the learning ground you're looking for.
Etsy's Cons
Like all marketplaces, being a third-party seller doesn't always go without a hitch:
Competition
The downside of any popular marketplace is that it's, well, popular. This means it's tough to stand out. Even if your designs are unique, Etsy is saturated with uniqueness. It will take originality, top service, and raving reviews for your Etsy shop to get going.
Copycats
Considering that originality is the main selling point of your brand, and the wide reach Etsy has, copycats are a danger to every Etsy seller. It helps to establish your brand in more ways than just having an Etsy shop. This will make it harder for copycats to steal your customers.
Limited to Etsy Users
Like Amazon, Etsy serves as a great search engine, but only within the platform of Etsy itself.
If you're searching Etsy for a plant hanger for your sister-in-law, you'll find the best listings on Etsy for handmade plant hangers. However, if you're searching Google for handmade plant hangers – which far more people would do – the listings on Etsy will come up at the bottom of the search results on Google (unless you have a very popular Etsy store).
That's just the way it is, so if you're selling on Etsy, focus on ranking higher within Etsy. Make sure you're tagging your items properly. Once you have products to sell, you can optimize your items for search by using keywords in your item title, adding your shop location, and naming your shop sections to boost SEO.
Etsy's Fees
Unlike some bigger marketplaces, Etsy makes its fees very clear.
There are listing fees and transaction fees. You'll be charged $0.20 per product listed, plus 5% commission for every item sold.
Joining the platform is free, although you can choose to pay a monthly subscription fee with perks like customizable storefronts.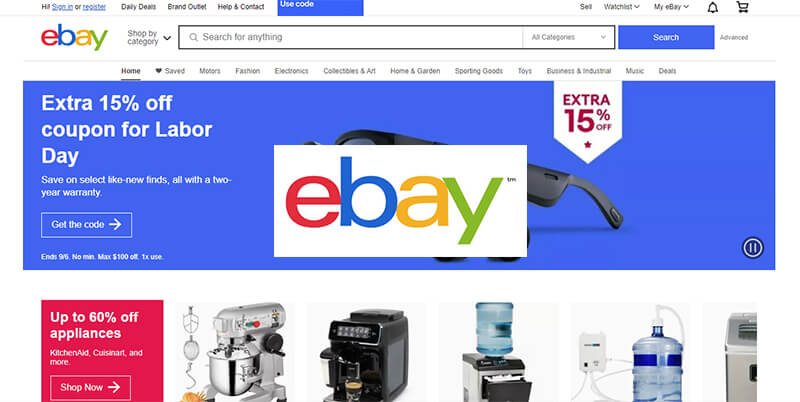 3. eBay
Everyone has heard of eBay, right? Last year, eBay reach 185 million active buyers worldwide.
Here's what should you know about eBay if you want to start selling.
What is eBay?
eBay started off as an auction site and later added a 'buy it now' feature for those of us who aren't into bidding wars. It's a popular marketplace for used goods, but it's also possible to start a business selling new products on eBay. Popular goods on eBay are:
Electronics
Health and beauty products
Video games
Books
Furniture
Where is eBay Active?
If you're keen to sell on this platform, check out the user demographics. Like many online marketplaces, eBay appeals to some age groups more than others.
Most of the eBay sellers are in the UK and the US. Germany completes the top three and is followed by China.
eBay's Pros
A well-established marketplaces like eBay come with lots of benefits.
Sell Anything
eBay sells more than just second-hand goods. Although it's still an option, over 80% of products sold on eBay are new. No matter what your niche, there's an audience on eBay waiting for you. Books, electronics, clothing, handmade items, car parts… the list goes on and on.
The Reach
You have a global reach. Just like Amazon, eBay allows you to target one of the biggest customer bases in the world. Also, a sale on eBay doesn't necessarily end there. You can use an eBay sale as an opportunity to inform your customer about your own web shop. This way, eBay works as a marketing tool as well as a sales platform.
eBay's Cons
All stories have two sides. Here are the downsides you should consider before selling on eBay.
Value fees
eBay charges a value fee. This is 10% of the sold price of an item, which can vary wildly depending on what you sell. Frankly, if your profit margins are low, it might not be a good idea to start selling on eBay at all. Luckily, there's a clear structure laid out on eBay's help site and even a fee calculator to help you figure out how the fees will impact your revenue.
Competition
Yet again, a big platform like eBay comes with a lot of competition. As you'd expect from most huge online marketplaces, it can be difficult to stand out here. It's important to keep your eye on the competition and to (re-)assess your own business. Is your market highly saturated? Can you beat your competitor's prices? You may decide to not list certain items, or you will have to think of a way to make them stand out, selling items as a package or gift box for example.
eBay's Fees
On top of the transaction fee mentioned above, eBay has a long list of seller fees, depending on who you are and how often you sell.
Subscribers can pay from between $8 per month as a 'starter' and up to $350 per month as an 'anchor'. You can also pay varying listing fees if you want to implement upgrades.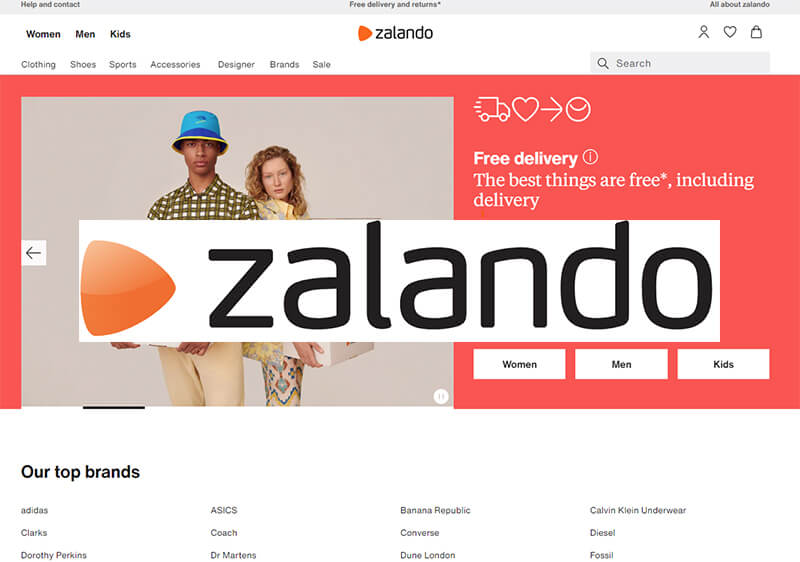 4. Zalando
If you're selling fashion, Zalando's the platform for you.
The company started out as a Berlin-based shoe retailer and is now selling thousands of products in 17 countries as one of the top online marketplaces in Europe.
What is Zalando?
Zalando is all about clothing and accessories. There are nearly 2,000 brands on offer in this marketplace, with shoppers able to find both low- and high-end options.
Zalando is the go-to place to sell:
Clothing for men, women, and kids
Sportswear
Designer labels
Accessories
Where is Zalando Active?
Zalando reported that 31 million customers ordered on its website last year. It's the most important marketplace for clothing in Europe. Within its 17-country radius, Zalando is most popular in:
Germany, its home base
Austria
the UK, but which marketplace isn't popular there?
Zalando's Pros
Zalando has a very specific business model. In contrast to the platforms, we've discussed so far, you already need to have an online store to be considered as a brand for this marketplace.
What are the perks?
Grow
Zalando is a blooming business. It's already reaching an international audience and the future looks promising. Selling on Zalando can introduce you to lots of new audiences. Zalando demands a lot from its sellers. Shipping services, for example, need to be approved by Zalando before you can use them. Although it might seem like a hassle to tick all these requirement boxes at first, it has the huge advantage of getting you off on the right foot straight away.
Helpful
Which brings us to a second point: Zalando is helpful! It has teams on hand to guide you in becoming and thriving as a seller. It's also possible for sellers to make use of Zalando's Marketing Services. They can offer you insight into their customer data or help you with your branding and storytelling. Zalando is a great platform to sell and learn.
Zalando's Cons
You might have spotted some cons already.
Limited
Zalando is selective about the companies it works with and the goods you can sell. This is good for limiting the competition, but it might also be too exclusive for your business.
Zalando is not for you if:
You're not based in one of the 17 countries it sells in. Mind you, Zalando is growing fast. If the platform isn't in your country yet, it might be coming soon.
You don't have an online store or brand presence. If you're completely new to selling online, you will not be able to sign up as a Zalando seller.
You don't meet their requirements. Zalando maintains high product and service standards and you must live up to them to sell on their platform. For example, every seller must work with approved couriers and must allow a 100-day returns window. If that's not for you, you're out!
Technical
As you can see, Zalando comes with a lot of requirements. It's also not so quick and easy to start selling on this platform. First, your registration needs to be approved. Secondly, much like Amazon, things can get quite technical to set up.
You will most likely need your in-house tech team to help you or, if you don't have one, seek help from a third-party integrator to get your stock up on Zalando.
Zalando's Fees
Here's the good news: there are no fees for product listings nor are there commission rates for your sales.
While this is great news for your sales, this marketplace has very strict rules. Consider them carefully, before you choose to join.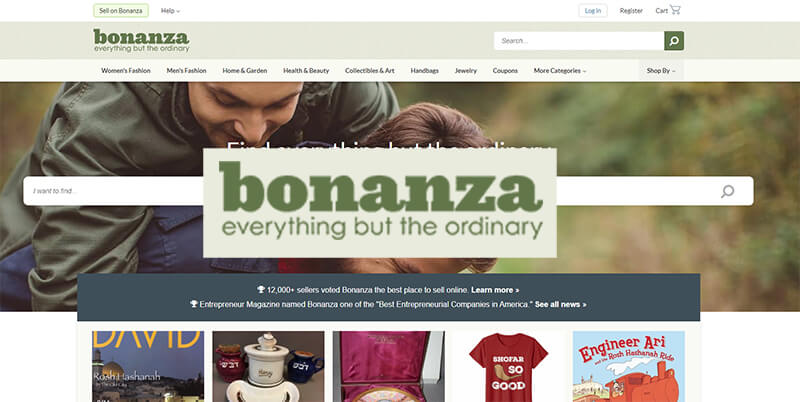 5. Bonanza
Bonanza was founded in 2008 and was named one of the "Best Entrepreneurial Companies in America" by Entrepreneur Magazine. Bonanza's mission is to support sellers to create a sustainable online business.
What is Bonanza?
Bonanza's tagline is 'everything but the ordinary', setting the tone for quirky, handmade products. Yet, a quick brow on their website will show you that they have a wide product range with things like electronics and video games among its 22 million products. Other things you can sell are:
Women's fashion
Collectibles
Garden décor
Pet supplies
Much like eBay, buyers can buy a product for a set price or negotiate an offer.
Where is Bonanza Active?
Bonanza isn't a big fish, but the website still attracts about 5 million visitors a month. It claims to sell worldwide, but most of Bonanza's traffic comes from:
The US, where Bonanza was founded and where 75% of its traffic comes from.
The UK and Canada, where plenty of Bonanza sellers are based.
It seems like Bonanza is heading in the right direction, but still has a long way to go if it wants to compete with the big guys.
Bonanza's Pros
Using a smaller, quirkier marketplace gives you a better chance of standing out. What are the other perks Bonanza users are raving about?
Easy
Bonanza allows you to easily import your existing listing from eBay, Amazon, and Etsy. It takes just a few clicks to copy your entire inventory. This means you can get started quickly and your listings will be consistent over all your channels. Bonanza even offers an eBay feedback importer that looks at your eBay account and gives you a review score based on your eBay reviews.
Ads and Traffic
For a fee, the details of which we'll cover later, Bonanza gives you the chance to be featured in Google Shopping adverts. This can increase your exposure dramatically.
Furthermore, in exchange for financial support, Bonanza will give your listings extra exposure on its platform, its affiliate partners, eBay customers and Bing! users. So, although it's a smaller platform with less users, it can help you to reach out to customers who aren't on Bonanza themselves.
Customer Service
Bonanza Sellers are always boasting about Bonanza's communication and customer service. This marketplace has a built-in chat (Booth Chatting) where buyers and sellers can communicate with each other when they're both online. Bonanza also supports sellers by offering advice, best practices, and community ideas.
Bonanza's Cons
Low Traffic
When your audience is smaller, so will your sales. Some sellers find it hard to get traction for their booths unless they bring it in themselves or use premium advertising. For a lot of sellers, Bonanza serves as an additional marketplace. Considering it synchronizes with your eBay or Amazon inventory, it's a good way of spreading your store across a few platforms to increase sales.
Proactive Marketing
Don't rely on Bonanza as your only sales platform and don't rely on customers to find you there without any marketing effort. Be proactive, use social media to drive traffic to your listings. Use the features Bonanza offers sellers, like offering freebies (giving away unspecified items with each sale), coupons or combined item discounts. Build up a relationship with your clients through the chat function and think about the marketing boost they can give you, even if this drives up your fees.
Bonanza's Fees
You won't have to pay to list your products on Bonanza, although they do charge value fees on sales, and you need to consider the money you'll spend on advertising. The more commission you pay, the more sales channels your products will be listed on. The more competitive your market, the more exposure you'll need, meaning: more fees for you to pay.
Users can also sign up to different subscription models, like marketplaces like Etsy. Paying from $25 to $170 per month will open you up to a range of extras.
This can all seem quite complicated, but it's important to know that after doing the calculations, Bonanza is typically cheaper than Amazon or eBay.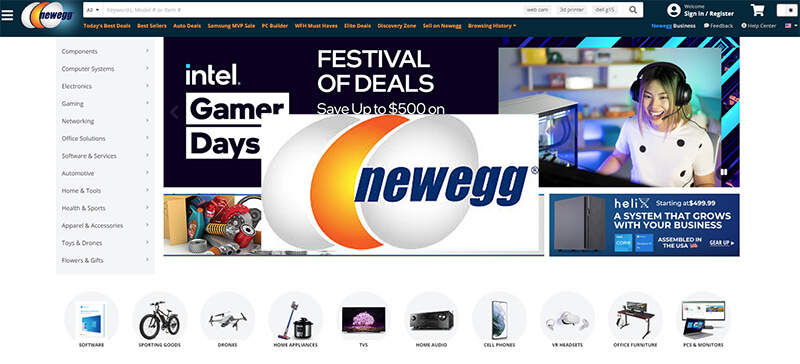 6. Newegg
Newegg is an online retailer for most things concerning computers and consumer electronics. It the arts & crafts world isn't for you, maybe this is?
What is Newegg?
Essentially, Newegg is a computer and electronics supplies store. It's a marketplace for professionals where customers can buy component parts and download software. It is however, continuously trying to expand its range. You'll now find products like:
Home improvement tools
Kitchen appliances
Sportswear
Apparel
Where is Newegg Active?
Newegg is headquartered in California and has distribution facilities throughout the United States and Canada. Yet, that's not where it ends. Selling on Newegg will give your business exposure in up to 20 countries. That global reach could help you diversify your range.
Newegg is available as a marketplace in:
Canada, where expansion has helped Newegg generate $2 billion in annual sales.
Australia and New Zealand, where it launched in 2015.
China, which has huge buying and selling markets for tech accessories.
Newegg's Pros
This all sounds lovely, doesn't it? Newegg prides itself for keeping an eye on their competitors and matching their service and features.
Fulfillment Services
Remember Fulfilment by Amazon? If you were a fan, then you'll appreciate the fulfilment service Newegg offers too. This feature enables you to leave logistics in the hands of the marketplace, meaning they handle your packaging and shipping.
Support for a small business.
Much like other marketplaces, you'll find helpful guides to boost your sales and support your efforts. Dedicated to finding the newest tech out there, Newegg actively looks for start-ups they can support with sales and shipping services or marketing strategies. Here's a marketplace that hasn't lost its core (tech) value.
Range diversity
That being said, Newegg has proven to be more than just a technology base. While it does appeal to tech experts, they've been broadening their offerings since 2010 and with success. Their top sales categories are in fact office supplies, consumer electronics and health & beauty products.
Newegg's Cons
High Standards
Newegg gives sellers the benefit of being able to sell to niche markets. Targeting the right audience is great, but it can also be a burden. Newegg sellers must pass a screening test and commit to providing excellent customer service.
Conscious customers
The typical Newegg shopper is well-informed about their desired product. They know what they are looking for and this is often a specific brand. If your business model is to sell unknown or unbranded products, pick another marketplace.
Newegg's Fees
With Newegg you'll be paying sales commission per product. Their rates are among the lowest in the industry, allowing you to set a competitive price.
There are also different subscription levels starting from $0 up to $100 per month, which will give you different opportunities.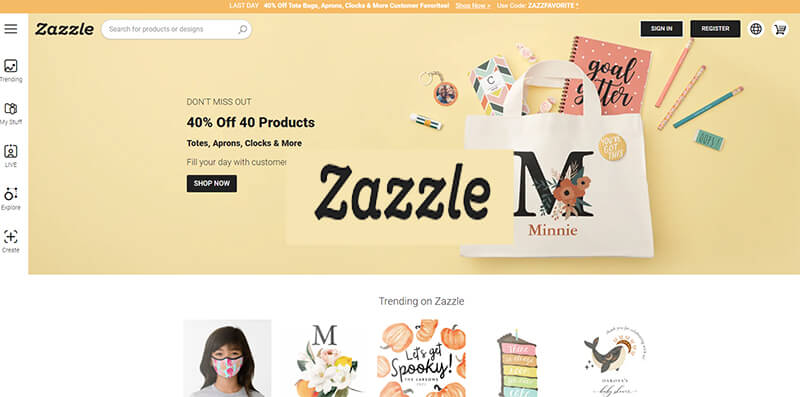 7. Zazzle
Zazzle, a name to make you dazzle. This is a family business that have been building the company carefully, quietly, and successfully.
What is Zazzle?
Zazzle isn't interested in becoming the next Amazon. Instead, they focus on offering products that can't be found anywhere else. This allows them to avoid pricing pressure.
Zazzle isn't a marketplace like eBay or Etsy where people just sell their products. Zazzle comes with technology to let customers personalize products. Items only get manufactured after they're ordered. This means Zazzle has next to no inventory, yet still manages to ship most packages within 24 hours. An efficient formula that includes products like:
Stationery
Phone cases
Gifts
Art prints
Where is Zazzle Active?
Zazzle has over 30 million visitors to its website every month, so you're sure to reach some international customers on this platform.
The US, where most of Zazzle's users are based.
Canada and the UK, like other craft-based marketplaces.
Europe, where Zazzle is growing as a brand.
Zazzle's Pros
Zazzle is a place for makers who are looking for a way to boost their skills and audience.
Easy Setup
Zazzle is simple to use, for both sellers and buyers. The platform is easy to navigate, and its features are self-explanatory. All you need to do to get started is sign up for an account as a Designer, Maker, or an Affiliate. Different tools are offered, depending on your choice of account.
Options
The three account options, opens up the platform to quite a wide range of sellers. As an Affiliate you can sell anything and receive a commission on your sales. As a Maker you will be responsible for manufacturing and shipping yourself. A Designer account allows you to upload your designs and choose the products you want to personalize. Zazzle will take care of manufacturing, printing, and shipping. You can choose from a wide range of products. Just about anything is customizable; from clothing to phone cases to ping pong rackets: you name it, they've got it. Finally, there are no limits to the amount of images and designs you can upload. Naturally, you must have the rights to the designs and images.
Zazzle's Cons
Zazzle doesn't come without its downsides, though.
Be Informed
With a product range this large, you'll need to be well-informed on what works and what doesn't. Perhaps Zazzle isn't the greatest place to start if you're completely new to the business. Furthermore, leaving the manufacturing in Zazzle's hands, means you must trust them. Some sellers and buyers complain that the quality of the printed products is questionable. Make sure you know what you're selling, considering your name will be linked to it.
Lower profits
You can set your own commission rate on Zazzle, but keep in mind that the competition is fierce. It might be a good idea to keep your business alive on another platform too.
Zazzle's Fees
As a designer, you don't have to pay to upload your designs. You can set a royalty rate and once you make a sale, you will get that percentage. If you're signed up as a Maker, Zazzle demands a 30% commission fee from your sales. This is like other art marketplaces both online and offline.
There are also shipping fees that makers must cover, so make sure you're clear on what this marketplace expects of you before you start selling.
8. Your Own Website
Why do you need a marketplace to sell on? Why not use your own website?
What should you consider?
If you make your own website, everything is in your hands. It's the easiest way to showcase your brand, your products, and your service proposition. Invite customers into your brand story.
SEO
When we say everything is in your hands, we don't just mean the pictures and words, we also mean the extent of your website's global reach. You will need to put some research into your target market before you dive into the world of online retail. You could find where and how you need to appeal by:
Doing keyword research. Which words will people use to find your eCommerce site?
Checking out your competition. Find out what others are doing, which prices they are setting and what their service offers. Is this what you want to do? What can you do to stand out?
Asking around. It's not because your business is online that you can't ask friends, family or whoever, what they think about your products and what service they would expect from you.
Website Pros
You're in charge of your sales and every aspect of the sales process. You can choose a shipping carrier to work with or take care of postage on your own.
You won't be competing with other sellers. All online marketplaces are hard to stand out in, but your own website is completely your domain.
You manage the product categories. Set up a table of contents that works for you. Want to add a new product category? That's up to you.
Website Cons
Doing things on your own comes with more responsibility. You will have to come up with a plan and be organized. This means you will have to invest more time into your online presence. It will be completely up to you to drive traffic towards your website. If ease is more important to you than sales, stick to the online platforms.
Fees on your own website
That depends on where you build your site.
Find an eCommerce website builder you feel comfortable with. Some options are:
Wix, an overall popular website builder.
Shopify, good for larger stores.
Weebly, popular among Entrepreneurs.
You'll need to build your inventory as you would if you were selling on an online marketplace. There won't be any seller fees for product listings or sales – you decide where your profits go.
Conclusion
If all the platforms, pros and cons have made you dizzy, don't worry. There is no need to stick to one platform only.
If you set your business up with its own website, you can choose to partner up with online marketplaces, too.
Most marketplaces won't demand exclusivity of your business. Just make sure that you have your inventory aligned. If you've sold an item on eBay, you can't sell it again on Bonanza.
Whatever your marketplace, good luck with the sales!